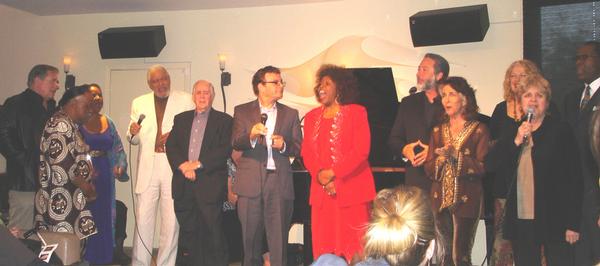 What a treat I got on Mother's Day! Cathy Segal-Garcia, known not only for her great
jazz singing, but also for her active dedication and involvement in stimulating our
musical community, put together a fabulous concert of about 15 of the L.A. area's most
prominent jazz singers to benefit the American Songbook Preservation Society, under the
direction of Ron Kaplan. http://www.greatamericansongbook.org
With superb, tasty and swinging trio backup of Karen Hammack on piano, John Hatton
on bass and Kurt Walther on drums, the singers each offered two gems from the Great
American Songbook, complete with sensitive introductions about the songwriter(s) and
the history of their chosen songs. Well, one can say that darn, we only got to hear two
songs each, but then again, we all want to leave our audiences "wanting more" and we
definitely wanted to "hear more" from each and every one of these wonderfully talented
singers! So, as people have asked me. who was my favorite? Very difficult to say, every
singer put their heart and soul into each song, and brought their personality and
distinctive style, so each song provided a new interpretation and thoughtful
improvisations, true to this art form – jazz! And I truly enjoyed each and every minute!
The concert was held at Alan Goldman's stunning home theater in the hills of Mt.
Washington…(we were all sitting there thinking "In my dreams, I'd have a space like
this!!") Thank you Alan, for providing this wonderful place to be! The concert was
videotaped by noted documentary filmmaker, Ken Koenig, and his son Eric. It was
recorded for CD as well, so we can look forward to these releases hopefully in the near
future! http://www.roseking.org/filmmaker.html
Cathy Segal-Garcia introduced each singer, and opened this concert on a gorgeous note
with her beautiful interpretation of "Some Other Time" written by Leonard Bernstein
with Betty Comden & Adolph Green. Cathy's thoughtful introduction gave us a little insight into the lives of these wonderful musical talents. Cathy then brought up Ron
Kaplan, the Executive Director of the American Songbook Preservation Society. Ron is
the embodiment of the Great American Songbook, living it and heartfelt. he brought the
smooth and elegant aire of Gershwin's inspiration among us. Ron sang "I Got Rhythm"
and he definitely did!
And so we started swinging, on to Gina Eckstine, who sang "I Could Write A Book" by
Rodgers & Hart…. and indeed she could! As the youngest daughter of the great Billy
Eckstine, what a story she can tell! Gina followed with "My Foolish Heart", a song by
Victor Young and Ned Washington which was originally introduced in the 1949 movie of
the same title. The power and emotion in her voice was awesome, and she wowed us with
a double ending doing it her way and then Mr.B's! What a treat, thank you, Gina!!
Dini Clarke took over the mic next and kept on swingin' with "Just In Time" by Jule
Styne, Betty Comden and Adolph Green. Dini followed with "Moment To Moment" by
Henry Mancini from the 1965 movie of the same title, and showed his full range of
talented interpretation and feeling for the music.
Kevyn Lettau was next and brought us an energetic and swinging version of "Almost
Like Being In Love (Lerner & Lowe) with a great scat… followed by an interesting bossa
interpretation of just about every jazz-lovin' couple's favorite song, "My One and Only
Love", written by Guy Wood & Robert Mellin. Kevyn set up the song with a percussive
scat-influenced introduction which was a real departure from most interpretations of this
song.
After a brief break, Jack Wood opened the second set, and we heard a v-e-r-y smooth
"Time After Time" by Sammy Cahn and Jule Styne. Jack has great phrasing, and he's
swinging, warm and velvety smooth (was Frank in the room smiling?) Jack followed with
Jobim's "Girl From Ipanema", and again, very tasty!
Talk about being surprised at every turn! Cheryl Barnes got up next and gave us "That
Old Black Magic" (by Harold Arlen & Johnny Mercer) and at every turn we heard a new
invention as Cheryl found another place to take this classic song, and we all grooved right
along! Great scatting by Cheryl with her incredible range! Followed by a tasty bossa
version of "I Didn't Know What Time It Was" by Rodgers and Hart. What command,
Cheryl! Bravo!
Charming and cool Mark Winkler got up and brought us some swingin' and hip Bobby
Troup songs – the first was Bobby's best known hit for Nat King Cole, "Route 66". Mark
gave us a great introduction on Bobby's first meeting with Nat and how "Route 66" came
to be inspired and written. Mark followed with one of Bobby more obscure tunes, "I'm
Such A Hungry Man", (a song I'd certainly never heard). Mark delivered this clever song
well with it's amusing lyrics, and made us all laugh! Yeah, Mark – Bobby was proud, and
Julie was smiling!
Next, another rare treat – Pinky Winters! Pinky knows so many tunes from the Great
American Songbook, and always brings us some of the lesser heard gems. She sang
"Nice 'n' Easy" by Marilyn & Alan Bergman and Lou Spence (who just passed)… and
with her subtle swing and great artistry made it all sound just so – nice and easy! And
Pinky followed this wonderful song with "A Beautiful Friendship" by Donald Kahn and Stanley Styne, and just about took everyone's breath away. So sensitive, Pinky, incredibly
touching, & simply, Wow!
Dewey Erney followed Pinky – so perfectly, with "All Or Nothing At All", composed by
Arthur Altman, with lyrics by Jack Lawrence. Dewey's smooth voice caresses the lyrics
and the melodies he so obviously loves. Then Dewey sang one of my favorite songs "I
Thought About You" by Jimmy Van Heusen with lyrics by Johnny Mercer, complete
with the beautiful verse, thank you! I learned from Dewey's introduction that Johnny
Mercer did not fly until late in life, so all his travel was done by trains and therefore, the
imagery of those trips is apparent in this song and a few others! I love to hear the stories
behind the songs!
We took one last brief break, then Cathy introduced another wonderful vocalist, Ann
Mack. When Ann hits those deep and sultry contralto tones, my heart is hers! I was truly
blown away the first time I heard her, in a workshop at Cathy's – and later Ann leaned
down and sang the opening line to "There's No You" in my ear! "Unforgettable – in every
way!" and I became her undying fan! Ann started her set with a swingin' version of "Star
Eyes" by Gene de Paul, and followed with a warm introduction of the great "William
Thomas" Strayhorn's tender ballad "Daydream" and what a Tour de Force it was for Ann
with her sensitivity and gorgeous voice!
Next came Bili Redd, who sang a swingin' bossa version of "Willow Weep For Me",
which finally gave the bass player, John Hatton, a chance to stretch with a groooovin
chorus…. and Bili continued the groove with some wonderful improvisations on this tune
which he clearly loves, as well as the following "For All We Know"…. (which I dearly
love as well!) Bili's version was one of the nicest I've heard of this touching song, which
was written in 1934 by Sam M. Lewis and J. Fred Coots.
Let me not go a word further without commenting on the superb playing of Karen
Hammack on piano. Not only a fine and sensitive player, Karen is a wonderful
accompanist and has the ability to bring out the best in each song and vocalist. I know
there was no rehearsal and yet Karen played everyone's charts beautifully and provided a
warm and swinging musical canvas for these great singers to paint the lyrics on. Karen
shines on bossas, swings with the best, and is sterling on slow ballads as well.
Cat Conner came up next, beaming and bouncing and bringing in the great cosmic spirit
of Edward Kennedy Ellington with a swingin' "In A Mellow Tone". Cat related some
personal experiences digging Duke's band live, and then sang a unique medley of "I Got
It Bad And That Ain't Good" interwoven with "Solitude". The moods of the songs fit
beautifully. Great arrangement, Cat!
I'd been eager to hear Denise Donatelli live, and I wasn't disappointed!… She began with
a song by one of her, and my, favorite composers – Cole Porter, in a bossa interpretation
that I think suits it beautifully – "I Concentrate On You". Karen Hammack, again, really
set up a beautiful bossa mood and played a gorgeous solo. Denise then took Matt Dennis'
"Angel Eyes" with a slightly funky groove that also worked beautifully and gave the song
a nice lift and set up another opportunity for John Hatton to get down with a bass solo.
Last but not least, Jimmer Bolden got up and in his charming and gracious manner
thanked us all for being there to support this music and all the singers… then Jimmer gave us a swingin' rendition of a gem by Fats Waller and Andy Razaf, "Honeysuckle Rose".
Jimmer took several choruses, each more swingin' and inventive. He closed his set with
one of his favorite songs written by Alan Brandt and Bob Haymes -"That's All" – that
started as a beautiful ballad, and ended up swinging; a nice and unexpected tempo change
that worked great with Jimmer's voice.
Cathy Segal-Garcia and Ron Kaplan closed the show, Cathy with a lovely rendering of
Rodgers & Hart's "There's A Small Hotel". Cathy related that the song was probably
written about the Montecito Inn, in Santa Barbara. Renovations to the hotel in the 50's
replaced the wishing well, mentioned in the song, by a floral fountain. So much for
historic preservation, but the beautiful song remains, and Cathy caressed it with her
velvety voice in a swingin' bossa mood. Ron Kaplan then set us up for a contemplative
ride home with "One For My Baby (And One More For The Road)" by Harold Arlen and
Johnny Mercer. Warm and beautiful, Ron!
Someone had a fun idea to close this wonderful concert with 15 singers getting up to sing
"Our Love Is Here To Stay", which, coincidentally, was also an ending for the great
George Gershwin, being the last composition he wrote. Dewey Erney provided the verse
and things took off from there, a swinging first chorus with everyone trading twos,
followed by everyone scattin' the next one, and a unison third! You should've heard the
last note!!! The universe did!
So thanks to all who created this wonderful concert, Cathy Segal-Garcia, Ron Kaplan,
Alan Goldman, all the singers who brought their heart and soul to the music, and Karen
Hammack, Ron Hatton and Kurt Walther, for their solid musical underpinnings, and to
Ken Koenig and crew for documenting a great day!
Did I say swingin' too many times? I'm sorry, but it WAS Swingin! For anyone who had
to miss it, hope my notes and pics help bring forth the spirit of the day! It was a great
confirmation that the legacy of Jazz and the Great American Songbook is alive and well!
I know I was so inspired I could hardly wait to get home and start diggin out all these
wonderful songs to learn them myself!
Please, everyone – get out and support all these talented musicians and singers, and hear
live music!
by Julie Cresswell