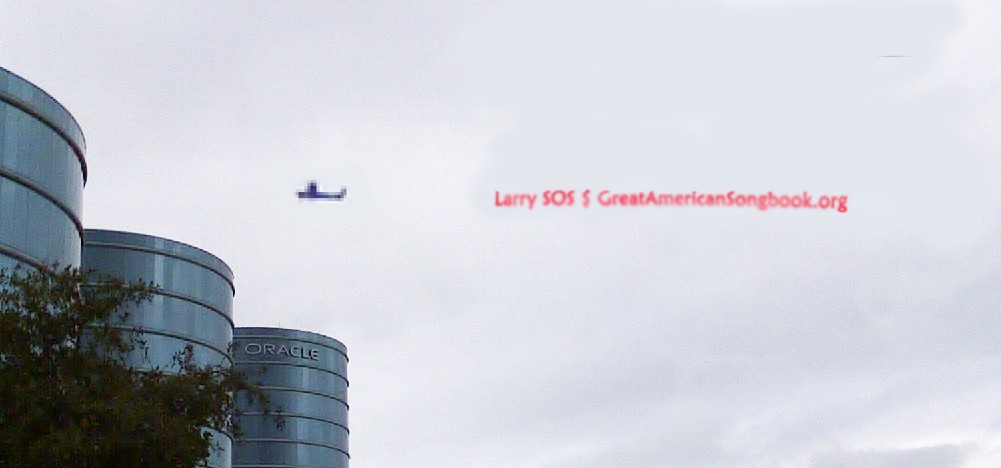 The American Songbook Preservation Society, a not-for-profit Foundation flew a plane with banner in tow around the corporate headquarters of Oracle in a plea for a charitible donation from CEO Larry Ellison on November 2nd, at Redwood Shores California. The monies would endow the Foundation in perpetuity to fulfill it's mission, and thus become a National Institution preserving this music for future generations by offering concerts for the public benefit. The request comes as a result of a 2005 settlement requiring Mr. Ellison to dispense $100 million within 5 years to the charities of his choice.


…singing the Great American Songbook
News
FOR IMMEDIATE RELEASE
Contact: Ronald Kaplan
Executive Director
(831) 687-0278 phone
info@greatamericansongbook.org
(831) 295-3672 cell
GreatAmericanSongbook.org floats trial balloon by flying Airplane Banner around Corporate offices of Larry Ellison and Oracle in plea for endowment donation.
Donation will endow Foundation and its mission in perpetuity
Redwood Shores, California November 2, 2006 11 AM – The American Songbook Preservation Society, a 501 (c)(3) not-for-profit Foundation, is flying a small aircraft with banner in tow, around the Corporate headquarters of Oracle in an outside-the-box, guerilla marketing strategy to attract the attention of Larry Ellison CEO of Oracle, to endow the ASPS in perpetuity by donating 25 Million Dollars, so as to fulfill it's mission: To preserve our cultural treasure known as the Great American Songbook, by presenting this music to the public at home and abroad as Ambassadors of Song.
According to Ronald Kaplan, founder and Executive Director, $25 Million Dollars will endow the Foundation in perpetuity and keep this music in front of the American Public and the world for the next 100 years and beyond.
This zenith of American Songwriting includes such luminous composers as Irving Berlin, Cole Porter, Duke Ellington and Billy Strayhorn, George and Ira Gershwin, Dorothy Fields and Jimmy Van Huesen, Yip Harburg, Harold Arlen, Johnny Mercer, Hogey Carmichael, Al Dubin, Harry Warren and many others.
"This is about keeping this truly American music going beyond America's Ambassador of Song, Tony Bennett" says Kaplan. "My intention is to build an Organization to stand the test of time. I have chosen to make this my personal mission as a labor of love, and am thrilled and honored to take up the task as "keeper of the flame," and I will spend the rest of my life attending to this endeavor."
This conception of this event was the result of a dream by new board member Judi Robert in contemplation of assisting Kaplan in achieving his mission. All donors are welcome.
Our Mission: To preserve our cultural treasure known as the great American Songbook by presenting this music to the public at home and abroad as Ambassadors of Song.
###